Liberty VIP – Dumbo, NY – Rodney's Acura TL
October 23rd, 2010
We made a second trip to NYC for a photo shoot with Rodney and his Acura TL. Being smarter about NYC traffic, we made an appointment with him at 9am on a Saturday morning. Driving around Canal Street we found an alleyway that was perfect for the first shoot – a narrow one-way street with tall surrounding buildings.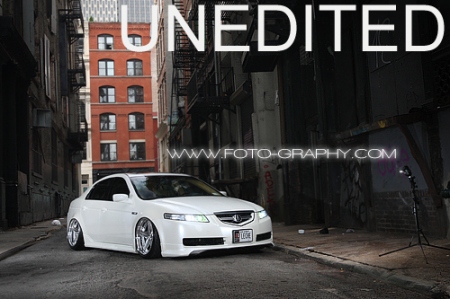 CLICK HERE TO SEE MORE BEHIND THE SCENES IMAGES.
Next we head to Dumbo, NY, well known for its distinct view of the Manhattan Bridge off of a cobblestone road. Unfortunately there was construction on that particular road, but we were able to secure a pretty nice spot with a perfect view of the bridge. We were actually blocking parts of the road during the photo shoot, but even the NYPD was impressed by the Acura that when they stopped by to check on us, they didn't mind us taking over the spot for an hour or so.