Passion Entertainment – Agency Shoot #2
March 9th, 2011
Did a second shoot for a somewhat new agency today Passion Entertainment.
They are all very nice people to work with and the girls are all nice too, the shoot went well and was very quick.
Took about 300 pictures in an hour.
We did two different sets, first set was a laying down bed set.
Consisted of a bed with comforter and black background.
Second set was a standing set with a cool blue background.
We used an ink pen as a prop and pretended it was a lollipop.
Yes, that is not a real lollipop she is holding!! :)
Had to hide her identity because she is a student and doing this work to pay her way through law school.
CLICK TO SEE FULL IMAGE WITH NUDITY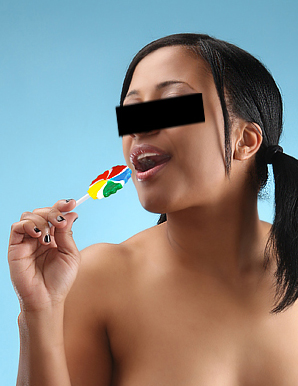 This particular shot I was not too fond of but it was the clients pick so this is it!
The reason I'm not too fond of it is because of the body torso positioning.
She is leaning forward a little which makes the torso look short/compressed/overweight.
I have some other shots that are more interesting and artistic that I would like to edit one day when I get free time.
And I would like to swap out the background for something more interesting, just hope to find free time!!